Operation Care Package at the Roseville Automall
Join the American Red Cross Gold Country Region for Operation Care Package in the Roseville Automall
The American Red Cross Gold Country Region, in partnership with KCRA/KQCA, and the Roseville Automall is planning a wonderful gift for our military, and you're invited!
On June 8, Operation Care Package invites the public to donate items needed by our military, military families and veterans. In addition to the special care packages shipped to deployed military members, contributions will be distributed to local service organizations to help meet the needs of our service members and veterans throughout the greater Gold Country Region.
Suggested Donated Items for Care Packages
PLEASE NO GLASS CONTAINERS & NO HOTEL TOILETRIES
DRINKS
Instant Coffee Packets
Powdered Coffee Creamer
Powdered Drinks mixes
Instant Tea mixes (sweet) or Tea Bags
Gatorade Powder 18.4oz or smaller
FOOD
(including dry goods, snacks)
Protein/Energy Bars
Candy, such as Tootsie Rolls (NO Chocolate Bars)
* Jerky
Canned Fruit (pop top cans, no plastic)
Canned Meat (pop top cans, no plastic)
Granola Bars
Instant Soups (Top Ramen, Cup of Soup)
Gum
Instant Oatmeal
Pop-Tarts
Ravioli (pop top cans)
Tuna Kits
* Small Pop Top Canned Items
TOILETRIES/HYGIENE
Baby wipes-Individual Packs
Nose spray
Deodorant
Feminine Hygiene products
* Foot Powder (12oz or smaller)
Hand Lotion travel size
Hand Sanitizers-Individual size
Lip balm
Q-Tips 170 count or less
Razors (disposable)
Shampoo / Conditioner 12oz or smaller
Bar Soap (No Strong Scented SoapIrish Spring)
* Sunscreen
Tissues-Individual Packs
DENTAL
Floss
Mouthwash (small containers)
Toothbrushes-Singles
Toothpaste-Single
Packs
OTHER
Baggies (all sizes zip
lock)
Batteries, esp AA
Bug Spray
Duck Tape
Fly Strips
* Pre-paid Phone Cards
Shoe Insole Cushions
Socks (cushioned)
Puzzle Books
SPECIAL REQUESTS
VA Retirement Home, Redding CA
Sugar Free Candy
Pocket Combs
Sunglasses
Magnifying Glasses (with light)
Readers Glasses
Laundry Soap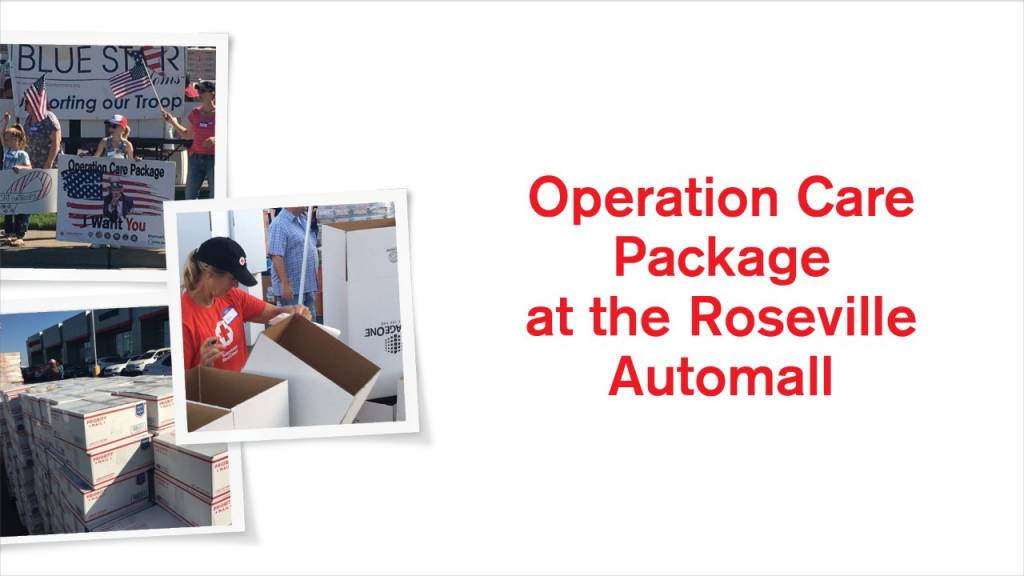 Visit the Roseville Automall on Friday, June 7 between 6 a.m. and 7 p.m. to drop off your donation.
THANK YOU
for supporting active-duty military, veterans and military families.
Directions To Operation Care Package in the Roseville Automall
Use the directions link below, or call us at  (916) 782-2163 for directions to Roseville Toyota.